The Power of Commercial HVAC Repair
November 13, 2021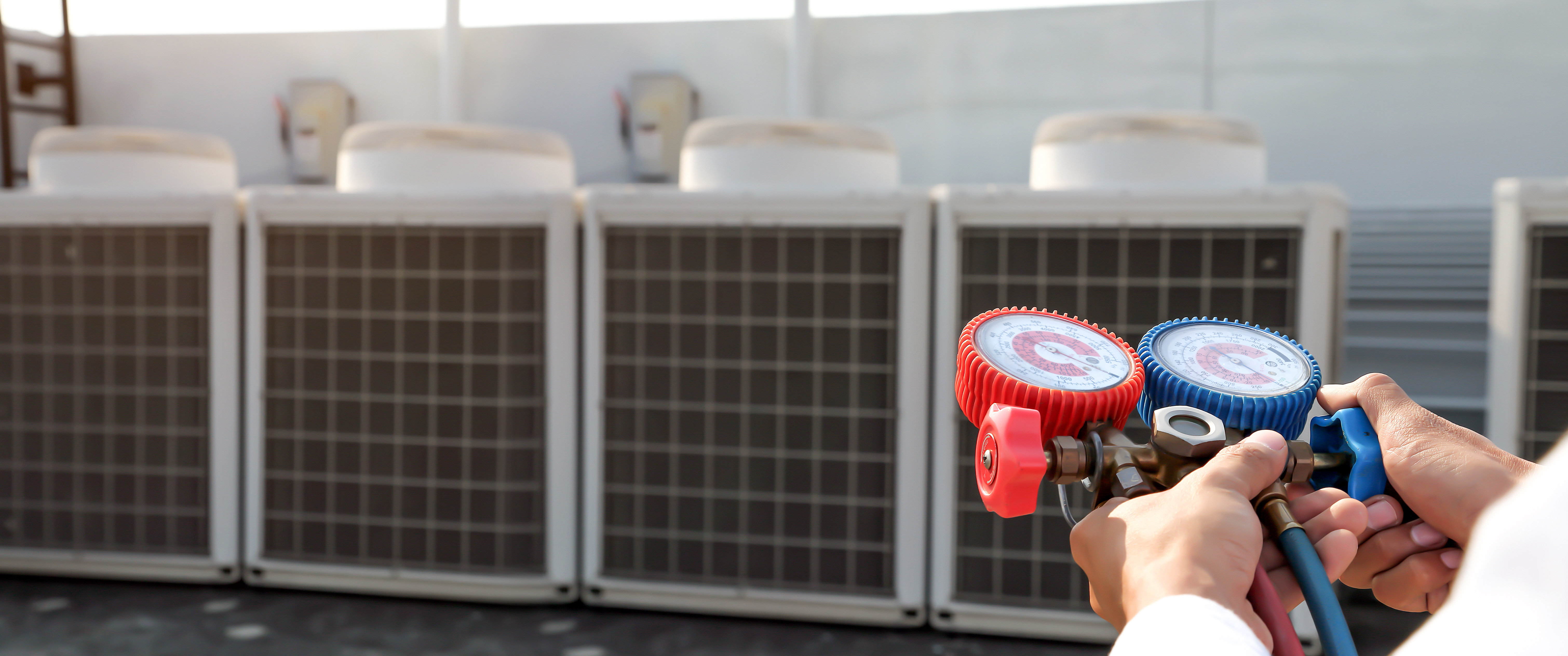 Know What to Expect from Emergency Mechanical Service
You might not think about commercial HVAC repair until you have to. That is, when something breaks, you need to fix it. Fast. When your heating and air conditioning aren't working, employees and occupants will have a hard time staying comfortable and can even experience reduced indoor air quality. So, what to do when you need emergency service?
When your HVAC system is on the fritz, contact a commercial HVAC service provider right away. Going forward, you might find that a maintenance program can really help to keep your system running smoothly while keeping HVAC repair costs down
Types of Common Commercial HVAC Repair Services
Commercial heating and cooling repairs are often urgent, especially if your HVAC system is completely inoperable. While it can seem that breakdowns occur at the worst times, commercial heating and cooling systems often work hardest on the hottest and coldest days. Here's what you can expect from the team of experts who assist you with your HVAC problem.


Emergency Service and Repair
Emergency service may be available on a 24/7 basis depending on the HVAC services company. Some buildings and facilities like hospitals or industrial centers need constantly regulated temperature and airflow, underscoring the urgency of their emergency.

Common Commercial Heating System Service Problems
Quickly diagnosing and making necessary repairs to restore heat is essential. In some cases, a blocked heat pump may be interrupting function. Or blocked airflow to the compressor could result in unheated air.
Sometimes repairs are simple and quick. In other cases, new parts may have to be installed to restore function.
Common Commercial Air Conditioning Service Problems
A tripped circuit breaker could be enough to stop a heat pump from blowing cold air. Low refrigerant levels can also interrupt air conditioning. Dirty or clogged vents and heat pump components might cause warm or only mildly cool air to be emitted. These are just examples of conditions requiring repairs.
A commercial HVAC technician can make quick fixes necessary to restore function while also diagnosing issues needing further repair and maintenance services.


What Are Typical Costs for HVAC Repairs?
Emergency service and systems work costs cannot always be determined until a site and equipment have been evaluated. However, costs for repairs and HVAC services often come down to:
Labor costs for experienced technicians
Repair timeframe
Parts or components needed to make a repair
Number of units needing service
Size and accessibility of your HVAC system
Routine Maintenance Saves Money on HVAC Repairs
Unexpected repairs to your heating and air conditioning systems can be costly. If major components have failed, you might need new commercial heating and cooling systems entirely. So, the best way to save money on commercial HVAC repair is to be proactive.
Some HVAC providers offer a maintenance program and maintenance plans that can keep you on top of repairs.

Comparing As-Needed Repairs to Commercial HVAC Maintenance Programs
Emergency HVAC repairs can be stressful. If your heating and air conditioning aren't working, comfort and even indoor air quality suffer. You need things fixed fast. But, wouldn't it be better if such problems never occurred in the first place? If you perform regular repair and maintenance services on your air conditioners, heat pumps, and complete HVAC system, the likelihood of needing sudden repairs drops.


A Commercial Maintenance Agreement program like United Mechanical's Proactive Preventative Maintenance Program includes maintenance plans as part of your regular HVAC services. Preventive service bundles:
Maintenance
Diagnostics
Repairs
By combining these services, unexpected breakdowns and problems won't sneak up, and systems can be maintained to prolong their life and peak performance. In the long run, it's more cost-effective to maintain equipment than to need a new commercial HVAC installation or to constantly need repairs.


United Mechanical Covers Your Commercial HVAC Repair and Maintenance Needs
If your HVAC system doesn't receive regular maintenance, it's never too late to start. The experienced professionals at United Mechanical can diagnose and inspect your commercial HVAC equipment to make sure things run as best as possible. For repairs and emergency service, we can work to efficiently get systems back to running order.

Despite what many business owners believe, HVAC systems are not set-it-and-forget-it equipment. Maintenance plans are integral, as we emphasize. In your many years of performing HVAC services, we've learned a lot, and we invite you to check out some of our additional resources so that you can learn more too.